This was a really good report on student loan debt from John Oliver's new show, Last Week Tonight. It was funny and at the same time some of the best reporting on the topic I've seen in a while, so I'm sharing it here.
<iframe width="560″ height="315″ src="//www.youtube-nocookie.com/embed/P8pjd1QEA0c?rel=0″ frameborder="0″ allowfullscreen></iframe>
Today's Google Doodle celebrates Audrey Hepburn, a worthy choice to be sure.  She was one of the most respective actresses of her time, ranked by the American Film Institute as the third greatest female screen legend in the history of American cinema, she is one of the few people to have won an Grammy, Tony, Emmy, Oscar, BAFTA, and numerous other accolades for her work as an actress.
She was also a fashion icon, but she may be most worthy of honor for her work as a UNICEF Goodwill Ambassador.  She first did work for UNICEF in the 1950s, but it wasn't until 1988 that she began work in an official capacity.  She was awarded the Presidential Medal of Freedom in 1992, only a year before she died of cancer at the age of only 45.
She's a worthy subject of honor, to be sure, but I'm curious what criteria Google chooses.  Around this time two years ago the Pearl S. Buck Birthplace launched an effort to ask Google to dedicate a Doodle to Pearl S. Buck.
Read the rest of this post »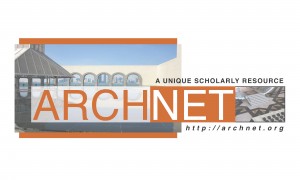 Below is a something that originally appeared in the MIT Libraries Libguide to Islamic Architecture that is maintained by the Aga Khan Documentation Center @ MIT.  The archive it describes is fascinating.  I've just replaced it with something new, but I couldn't bear to just throw this out completely, so I'm recycling it here.  To find out what I archive I'm featuring now, you'll just have to check out the Archnet portion of the Libguide.  It's got a lot of interesting resources, most of it compiled by our Program Head and our Visual Resources Librarian, though I try to hold up my end. Check it out and let us know what you think.  And don't forget to…
…DIVE INTO AN ARCHNET ARCHIVE
When you dive into the collections on Archnet, you never know what you will find.  For example, in the archive of renowned Iraqi architect Dr. Mohamed Saleh Makiya, you can trace his first major project, the celebrated Khalufa Central Mosque in Baghdad, from the imagination of the architect through construction, and also see images of the completed project.  Beyond that, you can read a proposal and see the plans that Makiya submitted for substantially expanding the Khulafa Mosque complex and renovating the area surrounding it.
Below is are just 5 images relating to the Khalufa Central Mosque from the Makiya collection.
I just got back from vacation in New Mexico, but I confess I kind of slacked off when it came to photographing bicycles.  I missed some good opportunities, especially in Albuquerque where most buses has cool bikes on the racks on the from of the bus.  There are also a fair number of cyclists on the roads, but I usually don't photograph these because it's hard to get a good shot of a bike with a rider on it that's in motion.  I didn't have my bike and I wish I had, because it definitely seems like a bike friendly place.
See New Mexico Cycling, Santa Fe Bikeways and Trails,  and Cycling in Albuquerque.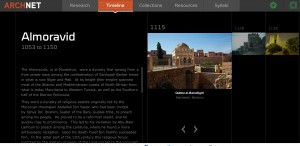 To celebrate the launch of the new Archnet, I'm presenting a Spotify playlist on the theme of architecture and the built environment. It explores various themes, ranging from an appreciation of great cities and monuments, to architecture as a spiritual metaphor.  Check it out and let me know what you think?
I'm missing are.  This is just what happened to come to mind at the moment, so I'm missing a lot, I'm sure.  What would you add?  Leave a comment and let me know.  
An email I received today from MoveOn puts the case for the Student Borrowers' Bill of Rights very well.  This is a very important piece of legislation.
Did you know that, like murder and treason, there is no statute of limitations on the collections of student loan debt?

Did you know that student loans do not enjoy bankruptcy protections just like any other type of debt in America, including gambling debts?

Did you know that defaulted borrowers face the potential of having their professional licenses suspended, as well as having their wages, Social Security benefits, tax returns and other benefits garnished, without a court order?

It's well past time we right these wrongs and that's why Rep. Frederica Wilson (D-FL) has introduced the Student Borrowers' Bill of Rights (H.R. 3892).
Please sign the petition and share it widely!
The Wellesley College statue story is making news in New Zealand, and I just saw it on Al Jazeera, too!  It's clearly blown way out of proportion, so much that I now regret doing my insignificant part to give it legs in my social media presences.
Let's be clear, only 713 people have signed the petition to move the statue as of this writing.  Wellesley has approximately 2500 students.   The petition is open to the public so anyone can sign.   I can't see the signatures, but I suspect that many of the signatories are not from the campus community at all.  Still, even if  we assume that everyone who signed is a Wellesley student, the vast majority of students have no problem with the statue being where it is.  That is consistent with what I am hearing.
I have spent my entire adult life in higher education environments of various sorts: public and private, large and small, technical and liberal arts, foreign and domestic.  Student protests are frequent and healthy.  They seldom get much traction in the media, even when they are much larger and even when they work for it.  What is it about this one that has caused such buzz?  Would this story have gotten so much attention if it had happened at a coed liberal arts college?  Or is it the fact that Wellesley is such an highly rated college, so there's delight in knocking it down?   Or is it that people delight in seeing a students at a liberal arts college behaving so narrow-mindedly?  Whatever it is, the story has been carried way beyond whatever legs it should have had.
Check out this article from Inside Higher Ed highlighting comments made by President Obama about the discipline of Art History.  It ends with a chart of politicians that have attacked liberal arts disciplines, only 4.  I'm pretty sure it could be much longer than it is.
This article by Virginia Postrel in Bloomberg argues that Art History was a particularly bad major for President Obama to use in his comparison, noting that it's a major for the elite and that people who have degrees in Art History are wildly over-represented in the top 1% of wage earners.   Be that as it may, and whether he intended it or not, the President's remarks were an implicit attack on liberal arts education in general.  I take exception to that.
I do agree with the first part of his statement.  It is possible to get a good, high-paying job without a college education.  They are decent jobs and if that is what you know you want to do, you should do it.  I see many people go to college who don't need to, and arguably shouldn't go, often accumulating debt working toward degrees they're unable to complete, only to end up in a job they wouldn't have needed it for. Read the rest of this post »
Once again conservative media is outraged over people who say "Happy Holidays, and once again I am disturbed by the vitriolic reaction against what is, to my mind, a magnanimous, generous, all encompassing gesture.  Wishing someone Happy Holidays seems rather Jesus-like to me.  I'm not sure if that makes it Christian, though.  An awful lot of Christians today seem to have a real chip on their shoulder, and don't behave at all like the Jesus whose story is told in the gospels.
The funny thing is, I don't think Happy Holidays came into popular usage in an effort to be more inclusive.  I'd have to investigate this more systematically to say definitively, but we have examples going back to the 19th century from newspapers and magazines.  For those young enough to remember classified ads and newspapers, you were charged by the word or by size.  Happy Holidays is half the characters and takes half the space of Merry Christmas and Happy New Year!  It really gained currency after 1942 with Irving Berlin's song "Happy Holidays," simply because it was cool and brief.  You can find depicting nativity scenes on the front, that say Happy Holidays inside.  If you are seeing someone for the last time in December and you know you won't see them again until January, it's just easier to say "Happy Holidays" than it is to say "Merry Christmas and Happy New Year."
On the other hand, insisting that people say Merry Christmas in reference to a particular holiday that occurs on December 25 could be interpreted as somewhat un-Christian, or at least demonstrable of an ignorance of the diversity within Christian tradition, especially if we consider how commercial and secular Christmas has become.  Though it's use has been largely secularized in our era, the word "holiday" is obviously derived from "holy days."  In most Christian traditions Christmas has not been a single day, but a season beginning with the birth and ending with the Epiphany, 12 days later.  This is the origin of the 12 days referred to in the popular traditional carol "The 12 Days of Christmas."  Each of those 12 days is the feast day of a Saint, or a "Holy Day." This year the Feast of the Epiphany is January 6, so we are still in the midst of the Christmas season, even if people are taking down their decorations and going back to work.
Moreover, not all Christians in America celebrate Christmas on December 25 as Catholics and Protestants do.  We too often forget about Orthodox Christians who follow the Orthodox calendar.  They won't even celebrate Christmas until January 6, and there are a lot of them in his country.  So before we've even stopped talking about Christians, we've got a lot of Holidays already!  So why not say Happy Holidays and console yourself that you are referring to the holidays of the Christmas season?  

Of course, that's only relevant if you are a Christian and everyone you interact with in your life is too, and that they celebrate Christmas.  (Believe it or not, some of our more Puritanical founding fathers didn't and, in fact, outlawed it!)    Or maybe you just don't care, because the fact that you are celebrating is enough.  If you really think about it, wishing non-Christians Merry Christmas is like wishing other people Happy Birthday on YOUR birthday.
Our Town Hall puts a crescent moon on its lawn beside a menorah and a star during the holidays, even though Hanukkah was over on December 5 this year, and there is no Muslim holiday that falls in the Holiday season this year.  Why not also have a statue of Buddha, Vishnu, the Spaghetti Monster, etc.  Though not religious myself, I admire the sentiment.  Happy Holidays stems from the same impulse, a desire to recognize the plurality in our society.  It would be better to put the symbols on the lawn during the appropriate time in the corresponding religious calendar, but it's a start.
So in that spirit, I close by saying to you all, Happy Holidays!  May 2014 bring us wisdom and understanding!
Bikes of Cambridge in the winter.  Hubway Bikes remain available in Cambridge as a pilot program.